151
« on: January 20, 2012, 12:10:34 am »
Well, here she is.
Bit of history here for the car and its owners.
September 96 the car was sold brand new by Cowie Bristol Toyota, the Sports Package (Front Lip, Rear Lip, Sideskirts, Bootspoiler and 14" OZ Alloys) was fitted at the customers expense. It changed hands after 3 years and was P/X'd at Brislington Park Toyota & Lexus, Bristol, where a lady had bought it and owned it for 9 years. Mikey Jordan then bought it from this lady with 36000 miles on the clock. Fresh and standard. From there Mikey spent a few thousand pounds making it how I bought it in 2010.
March 2010 - Mileage 46177.
Modifications Carried Out By Previous Owner:
Engine
TRD Panel filter
Corolla Inlet Manifold
Magnecore 8mm Ignition Leads
Custom cat-back exhaust
Suspension/Brakes
KYB Excel-G shock absorbers
Tein lowering springs
Whiteline adjustable panhard rod
Tanabe front strut brace
Black Diamond grooved front brake discs
Black Diamond brake pads
Starlet GT Rear Hubs (Disc Brakes)
Drivetrain
TC shortshifter
Royal Purple gearbox oil
Exterior
Toyota Optional Lip Kit
Toyota Optional Rear spoiler
Team Dynamics 'Jet' alloy wheels
Clear side repeaters
De-egged front indicators
Xenon Headlight bulbs
Tinted rear windows
Interior
Toyota Cassette Player
AE92 Corolla Gti front seats
Cynos rear seats
Cynos Doorcards
TRD gearknob
Carbon fibre effect dial surround and clock surround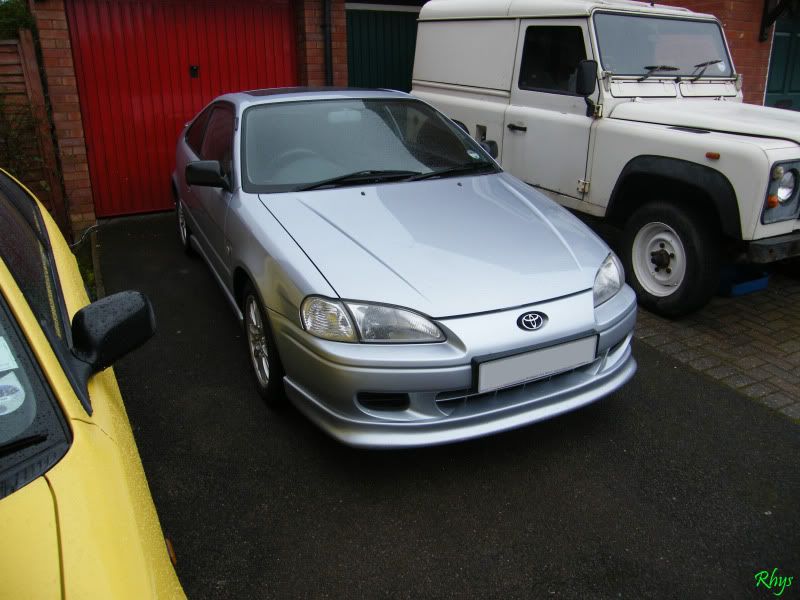 Things Changed Since Ownership :
New Speakers All Round (+ Two Wired To Amp)
OEM Fog Lights
14" Griffin Alloy Wheels (Standard Si) Sprayed Citroen Poseidon Blue
Original Paseo Seats
Audi Floor Matts (shit takers..)
JVC Headunit with iPod Connection
OEM Headlamp Protectors
JDM Coin Holder
Centerconsole Armrest (needs re-fitting)
JDM Rear Light Wiring
OEM Roof Rack (shows Only)
JDM 6x12.5 Rear Plate
Modifications To Come :
Galliano Style Decals (like OEM Options) in metallic grey.
Alloy Wheels Refurbished Lime Green Or Neon Pink..
Wire Up JDM Ignition Barrel Illumination
Wire In JDM (look-a-like) Footwell Illumination (3 small green LED's)
LHD Speedo Binacle To House Fog Light Button
Wire Up Front Fog Lights
More Photos To Come